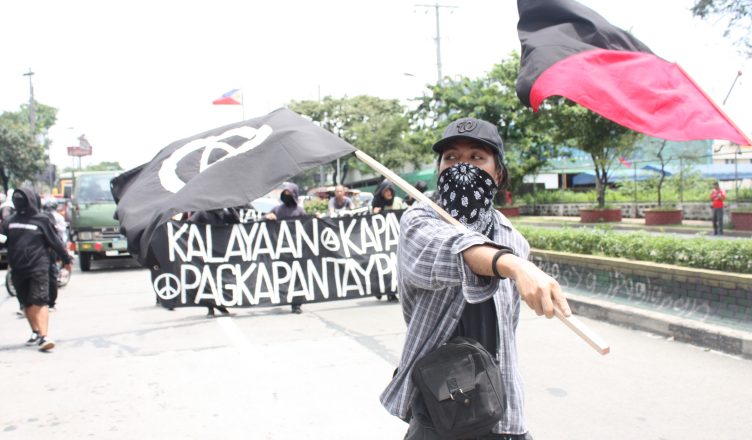 We have been contacted by comrades in the Philippines to let us know the situation that is happening there as we speak.
CNN reported on April 24th 2020 that President Rodrigo Duterte warned anew that he may declare martial law due to the alleged lawlessness of communist rebels.
"I am warning everybody and putting notice sa [to the] armed forces and the police, I might declare martial law," Duterte said in a taped address aired on Friday.
The President also vowed to 'finish' all of the communist group members before his terms ends in 2022.
According to comrades, who wish to remain anonymous for their own protection and safety, this has happened quietly, and that a "Second Martial is implemented silently" and that the independent media, what there was of it, has been clamped down on with only state-controlled media allowed to operate.
Our comrades go on to say, "There is no means to let this out what is happening in our community. No mainstream media that have documented what's really going here. It's an alarming fact!"
The "Community" is made up of anarchists, punks and other "non-mainstream left" and in the past few months they have been harassed, arrested, shot and had their homes and meetings raided with everything from literature to electrical items such as computers either confiscated or destroyed.
The DDS (DUTERTES DEATH SQUAD) a "secret" paramilitary group working "beneath the rule of law" has been "committing mass inhumane violence on the community" our comrade continues, "they go suspected house (identified) by their informer and conduct raids without warrant, they call it silent raids and it usually happens at dawn".
"The DDS is made up of many ex-police, soldiers wear ski masks has teams in all of the police stations and have one personal calling the shots". The "DDS will visit your place and say warning and second time you will be on their hit list".
"Some of our crew and friends are in fear of them and we move a lot staying at different houses because staying in our info shop was not safe anymore and that is why we don't sleep and widely awake at night here".
As on 3rd of May our comrades reported that there were many police and soldiers patrolling the streets and a lot of checkpoints.
Using the coronavirus as an excuse to increase its control and carry out more attacks on anyone "who doesn't support our president or who talks about the bad things he is doing; it is hard to live in this regime".
"People here are scared to talk about these issues or won't talk for fear of being picked up, and some people where jailed for trying to carry out activities on Labour Day (May Day)".
On the evening of the 3rd May 2020 we received the following message from our comrades:
"One of our comrades was gun down yesterday May 2nd at 7:00 pm on the street. He and her wife and 6 years old son where going to their home and at the checkpoint he was shot in point blank. He was shot 5 times in the head and his wife was also shot dead with bullets to the head two times while his son was hit by a stray bullet.
"The question in our minds is what is really happening to our country, with more and more killings every day.
"And the question is what happened in on barangay (an inner-city area, slum or suburb) checkpoint because each barangay is total lockdown and the checkpoint was guarded by two police men and 4 barangay police.
"The crime scene investigators (SOCO) only questioned the two cops and 4 barangay police who said they only see two guys riding motorcycle which we called riding in tandem, wearing ski masks. Everyone here knows this refers to the "Death Squads" and that he was targeted."
The comrade who was shot and killed has been described as a "real (good) father and good working-class comrade who worked in our computer shop". His son is now an orphan and we are "trying to do what is right by him, we are his family."
"We live in a time when there is no justice no human rights and everything is under the control of our killer president and his hired "gang boy" killers who ride motorcycles and wear ski masks.
"The media news only publish drug related issues they are also afraid of our president.
"Even though by telling you this we fear for our lives, our families and our comrades and friends we continue to educate our community about anarchism, giving them ideas on how to resist this kind of injustice and show that there is another way. Our so-called democracy is all fucking lies.
"We have been imprisoned many times because of anarchism spreading, time is all we have that is expensive and we don't know when we will be hit (by the DDS or Police/Military), we can only hope that we are not on the list".
Viva Anarkista (Anarchist comrades – Philippines)
5th May Update
We received the following message today: "Another comrade was gun down today at 5:00pm by Death Squad hit his head five bullets by the ski mask people riding a motorcycle. He was a good man, work as a taxi driver and our fellow skinhead and he play in our old band as Bass-Player.
"Maybe our name is on the list, but this won't stop us educate about Anarchism to our community."