Wellington Against Racism and Fascism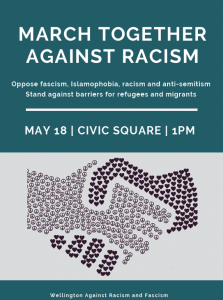 On Saturday, 18 May, WARF is participating in the National Day of Action against fascism and racism. At 1pm that day we will be marching against racism.
If you are keen to assist in organising this event and joining in longterm planning to stop fascism, come along to our organising meetings. We are meeting at 7.30pm on Mondays at Thistle Hall.
Email us for further details fight-racism@protonmail.com or check out our facebook: https://www.facebook.com/wellyarf/ The march is also a facebook event