Kurdistan Solidarity Network
Joanna Palani fought with Kurdish peshmerga and YPG in Syria but is now in custody in Copenhagen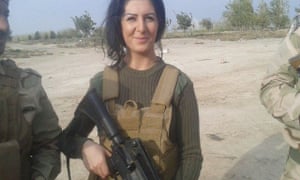 A Danish woman who fought for the Kurds in Iraq and Syria against Islamic State has been taken into custody in Copenhagen, prompting accusations of hypocrisy over her treatment compared with returning Isis fighters.
Joanna Palani, 23, who fought with both the Kurdish peshmerga in Iraq and the YPG militia in Syria, faces a potential jail sentence.
A 12-month travel ban was imposed on her to prevent her from travelling back to the conflict in September 2015, but in a closed court hearing last week she admitted travelling as far as Doha, Qatar, on 6 June this year and was taken into custody. She has another hearing on…
View original post 760 more words
Leave a comment
No comments yet.